Columns - Seth Acosta

A Job Board for job seekers with disabilities and the businesses looking to hire them.
Point of View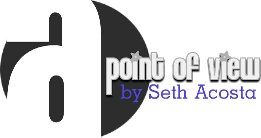 General Thoughts on Smart Business Practices
In this country, companies come and go at the drop of a hat. With the ever-increasing speed of today's marketplace, made ever quicker by constant technological innovations, a business must continually think ahead of the curve. The following will discuss a few practical actions that business leaders can employ such that their organization remains competitive in our country's fast-paced economy.
When we look at the strongest companies in the North American Marketplace, we can begin to see certain patterns emerge. Whether we're looking at General Electric, Boeing, or Lexus, there are a few defining characteristics that string these top companies together.
Among them are the expectations of excellence, quality, social responsibility, and most importantly, consistency. These traits should not come as a shock to anyone. Very simply, consumers are naturally drawn to the product that adds the greatest benefit to the quality of their lives. Therefore, it follows quite logically that these dominant organizations, the firms that have enjoyed enhanced longevity (McKinsey, Proctor & Gamble, Apple, etc.) simply offer the products that add the greatest benefit to their consumers' quality of life.
It's no accident that these companies have become so powerful. One commonality among all successful organizations is their ability to internalize the external constituents' expectations of the firm. Successful companies must always balance the business of business - with customer satisfaction and customer care. Success comes when an organization's leaders know (and meet) the expectations of their constituents.
Over time, satisfying ones customer base will lend itself to a firm reputation. For example, leaders at FedEx are specifically known for managing logistics, meeting deadlines, and solving problems quickly. In this way, FedEx has branded a quality of leadership that states:
"Absolutely, positively, doing whatever it takes…"
Harvard Business Review suggests that one of the most critical aspects of this branding process is for companies to invest in "broad-based leadership development that helps managers hone the skills needed to meet their customer and investor expectation" - in short, to create a "leadership brand," based upon your consumers' needs or desires.
Perhaps of equal importance is the need for businesses to recognize what leadership-trainings will most effectively promote the sort of quality management designed around their customer and investor expectations. It's not about knowing how to lead, it's about knowing how to lead your industry.
This means that two exceptional companies, Disney and Goldman Sachs, for example, will probably benefit from two entirely different leadership-training programs. The benefit of leadership training does not lay within the internalization of generic, "team management" pep talks, but rather with a heightened understanding of how to run your team in a way that grows your consumer satisfaction.
In an environment where an average company's life expectancy is significantly less than 50 years, it is critical to focus on the middle term if you expect to reach the long term. Scout for talent and harvest leaders before your company veterans have gone. Find and/or create leadership programs that speak to your firm's specific objectives, based upon your consumers' expectations. Most importantly, assess leaders from the customer's point of view – after all, customers are the key to business.
For more information, contact Seth Acosta.
Read the Point of View archives.
---
---
FACEBOOK

---