Articles - Fiore Files

A Job Board for job seekers with disabilities and the businesses looking to hire them.
54 Million Americans with Disabilities
We're all familiar with the often cited statistic of 54 Million Americans with Disabilities, but do we know 'who' is included in this group?
In a recent interview with the Philadelphia Business Journal regarding Best Practices in Employment, it became apparent to me that the journalist, like many folks that I meet, was not familiar with the broad list of impairments that constitute a disability. While there are several definitions of disability, the 54 Million Americans statistic that so many of us cite is based on a variety of functional limits. Perhaps the most important source of data on this number comes from an August 1997 Household Economics Study Report (P70-61) for the Department of Commerce that uses Survey of Income and Program Participation (SIPP) data - that speaks to Americans with disabilities of all ages. While this data speaks to folks who are not necessarily 'in the job market' the definitions are relevant in clarifying the extent and types of disabilities that we may encounter in the workforce. The extensive information collected in SIPP makes it possible to relate disability status to a range of variables including income, employment, health insurance coverage, and the receipt of program benefits.
In short, the report offers that the 54 Million Americans with disabilities include people ages 15 years (or older) who meet one or more of the following criteria:
Used a wheelchair or were a long-term user of a cane, crutches, or a walker
Had difficulty performing one or more functional activities
Had difficulty with one or more activities of daily living; the ADL's included getting around inside the home, getting in or out of bed or a chair, bathing, dressing, eating, and toileting
Had difficulty with one or more instrumental activities of daily living;move for such as going outside the home, keeping track of money and bills, preparing meals, doing light housework, taking prescription medicines in the right amount at the right time, and using the telephone
Had one or more specified conditions (a learning disability, mental retardation or another developmental disability, Alzheimer's disease, or some other type of mental or emotional condition)
Were limited in their ability to do housework
Were 16 to 67 years old and limited in their ability to work at a job or business
Were receiving federal benefits based on an inability to work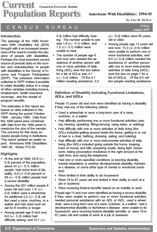 View or download the full 54 Million Americans with Disabilities Report.
---
---
FACEBOOK

---