Ability @ Work Archives

A Job Board for job seekers with disabilities and the businesses looking to hire them.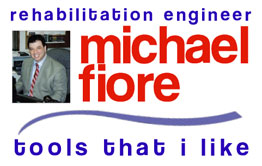 ---
DisabilityInfo.gov
DisabilityInfo.gov offers free, online resources to help businesses understand the Americans with Disabilities Act (ADA) and other disability-related laws.

From the Americans with Disabilities Act to Section 504 of the Rehabilitation Act of 1973, several disability-related Federal laws may apply to your business. For example, many employers are required to make reasonable accommodations available for employees with disabilities. And if you're a Federal contractor, you may need to take affirmative steps to hire, retain and promote qualified individuals with disabilities.
Thankfully, understanding your responsibilities under these and other employment laws doesn't have to be difficult. There are a range of free tools and resources to help you navigate the road to compliance. By visiting the "Employment" section of www.DisabilityInfo.gov, an award-winning Federal government web site sponsored by the U.S. Department of Labor's Office of Disability Employment Policy (ODEP), employers can find a broad range of disability-related information and resources.
Click here to visit DisabilityInfo.
Resource Alert: Audio Services

In 1998, Congress amended the Rehabilitation Act to require Federal agencies and their contractors and vendors to make their electronic and information technology accessible to people with disabilities. Section 508 of the Rehab Act was enacted to eliminate barriers in information technology, to make available new opportunities for people with disabilities, and to encourage development of technologies that will help achieve these goals.
The Workplace Technology Foundation and Employment Incentives have benefit from the audio services of PanRight Production. PanRight Production's accessible web site complies with these Section 508 regulations and offers cost effective audio services to Federal contractors who may need audio descriptive services as part of their intent to become 508 compliant. For samples of accessible audio content – and to learn more about PanRight Productions – click here.
Zoomtext: See it clearer.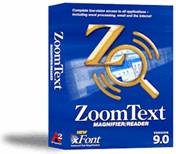 Zoomtext offers a number of enhancing tools for persons who have difficulty reading and viewing their display. Through the utilization of xFont magnification and Neospeech technology, this software allows for increased imaging as well as speech output capabilities. This device will magnify and read aloud virtually any text in nearly any program – including the internet, email, PDF etc. Additionally, this software allows the user to customize magnification levels, and speech output settings to match specific needs. This software is critical for employees who are experiencing decreased efficiency due to reading or visual limitations. The product is manufactured by AI Squared and costs about $600.00.
OpenOffice.org
Free Technology isn't just FREE, it's Freeing

We know that access to technology can often be the bridge to employment for people with disabling conditions. However, as with many bridges – this one can sometimes have a toll. Thanks to SUN Microsystems, a part of this 'work remotely' bridge is now completely 'toll free.' Through their commitment to open source code, we can all download their free multiplatform office suite which is compatible with the major office suites many of us use at work. Just visit OpenOffice.org to use their components - they mimic the word-processing, spreadsheets, graphic design and presentation software tools most of us use at work.
So, what makes this free tool 'freeing'? It improves accessibility! It's a convenient way to periodically work from home without anyone shouldering the expense of buying additional software. In today's economy where both business, insurance and rehabilitation budgets are thin - using this free tool overcomes the need for expense when an accommodation of alternative work schedules/locations is requested. It's free access for any of us to use on our home machines as we attempt to seamlessly email documents from location to location when we can't be at our 'desks.' Free software may be what FREES you to complete a technology rich workplace accommodation thus allowing a person with a disability to be a productive employee.
Other uses for OpenOffice.org? Use your imagination! How about altering or creating documents and spreadsheets from any computer with an internet connection? Sierra Group's CEO, Janet Fiore, says, "I downloaded it to my parent's computer for my personal convenience while traveling to their city on business. I liked it so much on my new home computer that I didn't buy or load any other software."
OpenOffice is free, it's convenient, it can be used almost anywhere. It's a resource worth investigating for anyone who periodically needs to work from a remote location.
Kurzweil 1000

Kurzweil 1000 provides blind, low vision, and users with learning/writing difficulties with access to printed and electronic materials at work and at school. Printed documents (after being scanned) and digital files (such as eBooks or email) are converted from text to speech and read aloud. The newest version of this software expands Kurzweil 1000's award-winning reading, writing, and study support tools with new features that increase productivity and communication.
Here are the highlights of what's new:
Kurzweil 1000 now recognizes most printed forms and presents them with the fields, labels, boxes, and text areas in the appropriate reading order for users to complete
A New Appointment Calendar with audible reminders allows users to create, add, edit, and delete calendar entries simply from the desktop taskbar
Users can bookmarks MP3, WAV, and DAISY audio files
Access to 18 bilingual audio dictionaries and the Merriam- Webster medical dictionary
This nearly $1000.00 software solution requires access to a TWAIN or WIA-compatible flat bed scanner, and a computer that meets or exceeds 500 MHz Intel® Pentium® III with 256 MB of Memory. You can also learn more about Kurzweil 1000 at www.kurzweiledu.com.
Internet-based - Live Text Communications

FREE Resource: Internet-based - Live Text Communication. NexTalk is a personal communications software for Windows that allows you to use certain compatible voice modems to make and receive TTY calls. You can answer a call in NexTalk-VM by simply pressing the answer button, and you can send your customized greeting to the caller as soon as the connection is made.
Call a TTY
Anyone on a browser can call you
Receive "Text Mail" messages that are forwarded to an email address
Send or receive Instant Messages with any NexTalk.net user
Transfer and conference text calls between NexTalk.net users
What Are My Obligations to Provide Reasonable Accommodations?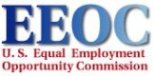 Last month an EEOC attorney in Philadelphia offered that an employer should proactively offer accommodations if they have 'reasonable knowledge' that an employee has a disability even if that employee doesn't request an accommodation. Do you want to learn more? Email me to discuss – Michael Fiore.
For more information on what what is considered 'reasonable', click here.
General Accountability Office Report

According to a recent General Accountability Office (GAO) report, there are over 20 federal agencies and over 200 federal programs that serve people with disabilities. These programs serve a wide variety of needs and together invest over $120 Billion in federal funds annually. The GAO reports that the inability to scale many of the programs to meet current and forecast needs combined with inconsistent eligibility requirements are two of the major problems facing ongoing congressional (financial) support. Click here to view the entire GAO report.
The Work Opportunity Tax Credit (WOTC)
The Work Opportunity Tax Credit (WOTC) has been re-authorized, retroactive to January 1, 2006, through December 31, 2007 by H.R. 6111 the Tax Relief and Health Care Act. For all hires made after January 1, 2007, the enhanced eligibility criteria will apply.
The program changes, effective as of January 1, 2007 include:
Raising the age for the Food Stamp category from 24 to 39
Eliminating the income test for Ex-Felons
Incorporating the Welfare-to-Work credit into the WOTC credit.

Welfare to Work is now replaced by Long-Term Family Assistance category

40% of first $10,000 of wages in year 1
50% of first $10,000 of wages in year 2

Increases the number of days required to file the Pre-Screening Form 8850 from 21 days to 28 days
Click here for information about your state WOTC coordinating agency.
Ace Reader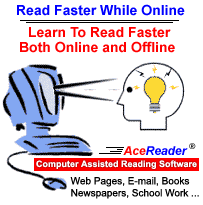 Reading faster and with better comprehension has helped me in my work and it can help you too. Using Ace Reader, I can now read and comprehend text at the rate of over 600 words per minute – most adult readers can read at about 250 words per minute. Now while I don't read everything this fast, it does help me move through mountains of paper with ease.
The theory behind this inexpensive technology (about $100 – depending on the version) leverages Rapid Serial Visual Processing (RSVP) to reduce visual tracking difficulties and inspire rapid visual decoding. Together, these important accommodation tools rely on displaying one word at a time in the center of the display for a brief moment before a new word takes its place. I have used Ace reader to help people who have comprehension difficulties following a stroke or brain injury to regain reading skills. I have also seen this software benefit scores of adults with learning disabilities enhance their reading speed and their comprehension.
Whether you are looking for a low-cost and effective reading comprehension accommodation or a tool to increase reading speed and performance, Ace Reader is a tool worth checking out. You can download a free sample on www.acereader.com.
AOL Aim
AOL Launches AIM Relay Services for Deaf, Hard-Hearing and Speech-Disabled - America Online (AOL) announced the launch of AIM Relay Services, a new service which builds Instant Messenger (IM) service within the deaf, hard-of-hearing and speech-disabled communities by allowing users to connect to telecommunication relay services to place relay telephone calls directly from their AOL Buddy List or AIM Buddy List. Click here for more information about the new AOL AIM Relay Service.
Mail.com
mail.com to Read Messages Aloud - Now all www.mail.com Beta users can opt to have emails read aloud in 11 languages using the Audio Webmail option. By integrating advanced speech synthesis technology directly within the webmail client, the contents of email messages are read aloud. Click here to learn more about this talking email from mail.com.
Optical Character Recognition
What is Optical Character Recognition (OCR)? Optical Character Recognition (OCR) is a process of scanning printed pages as images on a flatbed scanner and then recognizing information as text, using OCR software. OCR software possesses tools to acquire images from a scanner and recognize the text. Click here if you want to learn more about OCR.
Closed Captioning
What is Closed Captioning? Closed captioning (CC) allows hearing-impaired people, people learning English as an additional language, people first learning how to read, people in a noisy environment and others to read a transcript or dialogue of the audio portion of a video, film or other visual presentation. As the video plays, text captions are displayed that transcribe, although not always verbatim, what is said and by whom and indicate other relevant sounds. Click here if you want to learn more about Closed Captioning.
Lose the Keyboard and Talk to your Computer.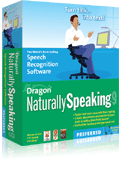 Dragon NaturallySpeaking Preferred 9 is easy to install and train and with a little bit of coaching and practice, it can allow most users to create documents, reports, e-mails and more—just by speaking! Once you create your 'voice file', the sound sample that lets the computer recognize your voice, the system can allow you to dictate in speeds as fast as you can comfortably talk – which for me is pretty fast since I'am from New Jersey (or as we would normally say – I'mfromNewJersey). You can use this software to create and edit text within Microsoft® Word and Excel®, Corel® WordPerfect®, and virtually all Windows®-based applications. A word of caution – make sure you have enough memory on your system – it is a resource hog.
Reduce Keystrokes and Increase Accuracy with a Macro Keypad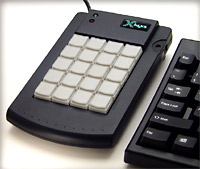 The X-keys programmable key pad is a USB device that connects to your computer and offers you easy to program keys that can perform multiple keystroke operations with the touch of a single button. The device work in conjunction with your standard keyboard and allows you to instantly record keyboard shortcuts and macros that control board keyboard and mouse commands onto its' surface. We have used this device in Call Center applications to reduce keying by over 30% for individuals with Carpel Tunnel Syndrome. We have also used this device as a STAY AT WORK accommodation to assist people who need complicated new processes streamlined by having one X-Key button perform multiple navigation commands to ease the burden of learning a new piece of software. At around $100, the X-Key can reduce keying, streamline training, and increase production efficiency all with the touch of a button.
GOOGLE offers a Beta Version of ACCESSIBLE SEARCH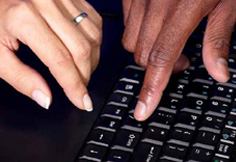 Google Accessible Search identifies and prioritizes search results that are more easily usable by people who are blind and visually impaired. Accessible Search takes the power of a standard Google search one step further by ranking your search results by order of Accessibility. How does Accessible Search work? In its current version, Google Accessible Search looks at a number of signals by examining the HTML markup found on a web page. It tends to favor pages that degrade gracefully --- pages with few visual distractions and pages that are likely to render well with images turned off.
More Than 50 Million Americans Report Some Level of Disability
About 18 percent of Americans say they have a disability, and 12 percent have a severe disability, according to a recent report released by the U.S. Census Bureau. More information on this Census report on disablity.
Learn about the 711 Relay Service
For information on the FREE national Telecommunications Relay Service for people who are deaf or hard of hearing.
FACEBOOK

---